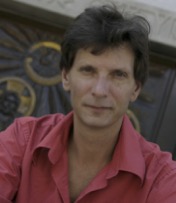 Jon Thornton began his first musical studies at the age of 10 in the Charlotte, North Carolina school band program. Jon's proficiency as a trumpet player was discovered early. Before beginning high education, he had the opportunity to perform with jazz legends Marian McPartland, Donald Byrd and Herb Ellis. Likewise, prior to leaving for the University of Miami, he was asked to join a big band tour of Romania, sponsored by the U.S. State Department.
In 1986, Jon had the opportunity to open a concert for legendary jazz trumpeter Dizzy Gillespie. In 1989, he was selected to become "Artists in Residence" in the North Carolina Visiting Artist Program. While tenured at Rowan-Cabarrus Community College, Jon was selected to tour with jazz great Max Roach and T.S. Monk, Jr. for the Thelonius Monk Institute. While an "Artist in Residence" at Brunswick Community College, Jon performed with Milt Hinton, Jane Jarvis, Freddie Redd, David Pike and Ron Free. He was also featured in "Gentleman Jim's," a television documentary about North Carolina jazz musicians for the BET network.
Over the years, Jon has had the honor of performing with some of the legends in the music industry including: The Woody Herman Orchestra, The Buddy Rich Band, The Nelson Riddle Orchestra, The Tommy Dorsey Orchestra, Natalie Cole's Unforgettable Orchestra, Loonis McGlohon, Al Jarreau, Joe Williams, Clark Terry, Louis Bellson, the Contemporary Jazz Orchestra of San Francisco, the Les Elgart Orchestra, Emily Remler, the Four Tops, the Temptations, the O'Jays, the Shirelles, Jim Brock, Don Dixon, Marti Jones and with the hip-hop artist, Deltron 3030 Orchestra.
On a local level, Jon has had an impact on the Charlotte and regional-Carolinas jazz scene, having co-founded the Charlotte Jazz Orchestra and Latin Jazz group, Fuego Lento. He has also performed with the Coalition Jazz Orchestra and the Unifour Jazz Ensemble. He has been featured in numerous orchestral concerts, including the Charlotte Symphony, Salisbury Symphony, and Union Symphony.
As a recording artist, Jon has spent hours in the studio as a staff musician for Sound Source Studios, having delivered more than 500 recordings for backing tracks and karaoke music. His trumpet playing can be found on over 50 CD recordings by jazz and popular music artists alike. Among these are 3 Grammy nominated records and one Grammy Winner for R&B artists Anthony Hamilton. Jon's trumpet can also be found on two PBS documentaries: "A Man Named Pearl" and "North Carolina's World War II Experience." Over the years, his playing can be heard on numerous local and national television and radio commercials.
Jon's formal music education includes the University of Miami (FL) school of music (on scholarship), Berklee College of Music, Winthrop University and private study with world-renowned jazz educator Jerry Coker at the University of Tennessee, Knoxville.
Jon and his wife, Julie, currently reside in Charleston, SC, where he continues his career as band leader and sideman for various ensembles. He can be found in the Lowcountry in a variety of venues and with The Charleston Jazz Orchestra and the Charleston Latin Jazz Collective. He was a featured performer for the 2014 and 2015 Folly Beach Jazz Festival. He also performs in a classical setting with his wife in their Classical Brass Quintet, "Holy City Brass."
Jon is a private instrumental instructor in trumpet and jazz improvisation.