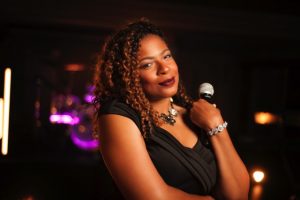 Zandrina Dunning is a professional Singer/Songwriter, Vocal Coach, and Producer originally from Boston Massachusetts. She resides in Charleston, South Carolina performing all genres of music ranging from opera to soul/funk to country. She is a mother to her beautiful 10 year old daughter, London who will be majoring in Band at Charleston County School of the Arts beginning in August.
Although she began singing at a young age in church and in elementary school, Zandrina began her professional musical journey studying Classical music, Jazz, and Musical Theatre at South Carolina State University in 2000. She received her Bachelor of Arts degree in Music Industry/Vocal Music in 2004.
Zandrina has performed with local and national recording artists to include Multi-Grammy Award winner George Benson, Nashville singer/songwriter Patrick Davis, Darius Rucker & Mark Bryan of Hootie & The Blowfish, American Idol Season 11 finalist, Elise Testone, and more.
She has performed at the legendary Ryman Auditorium in Nashville TN, the Lincoln Theater in New York City, and many other noted venues throughout the US and internationally including Havana, Cuba with international jazz percussionist, Gino Castillo.
In 2017, Zandrina was blessed with the opportunity to travel to to Monrovia, Liberia with the Save More Kids Foundation to teach music and perform with kids from Christ Children's Home in Gbarnga City, West Africa.
Zandrina has been producing shows and events since 2013 to include tribute shows to Janet Jackson, girl groups from the 1970's to today, Queen of Soul: A Tribute to Aretha Franklin, and most recently, the PURE (Peace, Unity, & Revival through Entertainment) Concert Series & Festival.
Zandrina can be seen performing in and around Charleston with the Charleston Jazz Orchestra, and with her own project, The Zandrina Dunning Experience. Zandrina was privileged with the honor of receiving Jazz Artist of the Year from the City Paper in 2020. She is looking forward to begin teaching Vocal Music at the Charleston Jazz Academy.