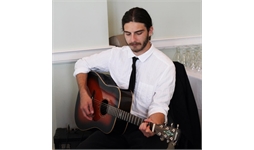 Bryan first picked up a guitar at the age of the thirteen and hasn't put it down since. His first main influences were Led Zeppelin, Eric Clapton and Jimi Hendrix. Bryan first studied rock guitar with Lance Ard. Throughout high school, Lance introduced him to many different styles and guitar players. Throughout his high school career, he helped create a music technology course and formed the school's first ever pep band. In his senior year, Bryan won a gold medal for his classical guitar performance at the SCISA Music Festival.
He then went on to study jazz guitar with Rob Nance, classical guitar with Christopher Teves, and jazz theory with Mark Sterbank. He completed one year at Charleston Southern, studying for a guitar performance degree. While at Charleston Southern, Bryan performed jazz guitar with the Charleston Southern Jazz Big Band, Jazz Combo, and classical guitar with the Guitar Ensemble led by Christopher Teves. At the end of his spring semester, he was one of two freshmen to play in the student honors recital, which is held for the best performers at the college. In the same month, Bryan also won the Rosario Classical Guitar Competition in Columbia, South Carolina. Bryan then attended the world-renowned Berklee College of Music. He studied with some of the most recognized guitarists in the music industry including Mike Williams, Jon Wheatley, Bruce Saunders, Jim Kelly, Julian Lage, Jon Damian and Mick Goodrick.
After moving back to Charleston in the fall of 2011, he began playing professionally all over the Charleston area and completed his guitar performance degree at College of Charleston in 2014 under the guidance of well known performers such as Tyler Ross, Lee Barbour, Robert Lewis, Tommy Gill, Dave Heywood and Quentin Baxter. Bryan now teaches privately and continues to play professionally all over South Carolina.